Musical training
---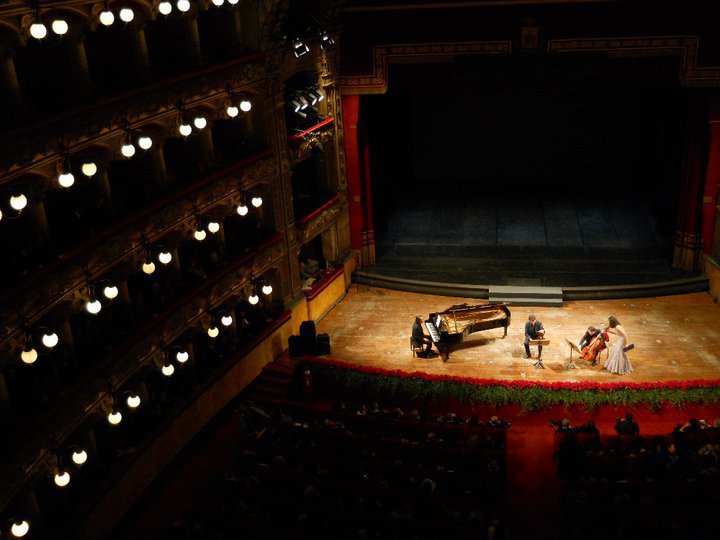 In 1997, M° Gabriele Denaro found an original chamber orchestra called IMMAGINI SONORE, composed of good musicians, (graduated from various high schools of Music and Conservatory of Music State), from different towns in Catania with a good concert experience.
It was established in Brussels, Luxembourg, Rome, Chianciano Terme (Siena), Trento, Teramo, Brindisi, Naples,Ortona (Chieti), Percile (Rome) and Catania and in other different Sicilian cities of the region and for several public entities too, like: Theatres, Cultural and Artistic Music Associations , having public success and critical acclaim and unanimous acclaim for the originality of the program, unique in its kind.
Gabriele Denaro performs his compositions in formation TRIO, using the valuable collaboration of musicians on Carmelo Leonardi (violin) and Mario Licciardello (cello). Both teachers and musicians, they performed with various musical groups, enjoying success with audiences and critics.
REPERTORY:
music by Gabriele Denaro
FORMATIONS:
1) Piano solo
2) Two pianos
3) Trio (violin, cello, piano)
4) Quartet (clarinet, trumpet, cello, piano)
5) Chamber Orchestra
6) Symphony Orchestra
PRODUCTIONS:
1) More than 400 original works for piano, duo, trio, quartet to orchestra and chamber symphony, performed by philharmonic and Italian and foreign ensembles.
2) n° 7 CD - execution and recording of their orchestral works performed at Philharmonic, theaters and recording studios in Italy, France, Spain, Romania, Bulgaria, Russia.
3) Publications: n° 35 its composition at the publishing house \\\"Schizzi Sonori\\\" in Catania (Sicily)
4) Soundtrack for n ° 2 and n ° 3 medium-length shorts films
5) Received international awards and composed the musical \\\"The steps of life\\\"